Reliable SaaS Support Services Company
We are a highly reliable and specialized agency for building a dedicated SaaS support team remotely to provide the right response to the customer queries in a real-time environment through multiple communication channels. Our company is based in Kyiv, Ukraine, which is one of the brightest outsourcing destinations in the world. We recruit qualified SaaS customer support representative team that offer outstanding support to our valued client such as:
Multi-linguistic support
Multi-channel support services
Professional attitude with etiquettes
Flexible and customer-oriented behavior
Very aware of industry trends and best practices
Expertise in modern SaaS helpdesk tools
Effective reporting and customer feedback analytics
And much more
How a Great SaaS Customer Service Is Critical for Your Business
Customer support service is the first step to learn real-world behavior of your customer, devise support service philosophy, and make certain improvements in your SaaS products/services accordingly. According to Zendesk's latest survey, more than 77% of customers remain loyal to the companies that offer top-notch customer support services. An expert-level software-as-a-service (SaaS) solution support plays a pivotal role in the success of any online software as a service business due to numerous reasons such as:
Time is money. Faster turnaround time is a fundamental metric of great customer support service. Modern era customers highly value their time and expect faster response from SaaS support as a service providing agents. Faster response creates greater user experience and customer satisfaction, which convert into better business outcomes.
Greater Customer Engagement
According to the Constellation Research information, an improved customer engagement with customers increases the cross-sale by over 22% and up-sale revenue by 38%. Having a great team of SaaS customer support enhances business revenue of a company significantly to stand firm in the fiercely competitive marketplace.
Real-time conversation through live chat, voice, or automated customer support SaaS systems creates the touch like a face-to-face meeting and personalized communication. This establishes an emotional connection with the support resources and the confidence in the company services.
The tendency of a customer to buy a product or service again and again of a particular company is known as customer loyalty, which develops based on different metrics such as faster support, greater service performance, brand value, and higher user experience. All those characteristics of SaaS services can be achieved by providing the best quality customer support. According to Accenture research data, over 66% of customers intend to spend more on the products of the companies they are loyal to.
Improved Customer Satisfaction
According to the DJA Survey information, the return on the investment in companies that maintain higher customer satisfaction is about 50% higher than the same investment made in the companies with lower customer satisfaction indicators. A great SaaS customer support team brings your more referrals, reduced price-sensitivity, and increased purchase intention, which result in greater revenue and profits.
A profession-grade SaaS customer support generates a greater brand value of your software-based products and services. A reputed brand always brings forth highly desirable metrics for the improvement of business performance such as customer retention, sales volumes, lack of price-sensitivity, and others. Those factors increase the profit margins and revenue to stand among the top businesses in the market.
The rate of customers that stop using the services or products of a particular company is referred to as churn ratio. It is highly critical to bring under control for a sustainable business. A great SaaS customer support team can help reduce the customer churn rate by increasing the customer satisfaction, engagement, and user experience significantly.
The most fundamental components that contribute to the increase in the conversion rate include service awareness, marketing, personalized customer engagement, customer interest and intent analysis, and additional help to take through the product features. A specialized SaaS customer support team can provide all those contributing factors in the conversion rate to improve online sales.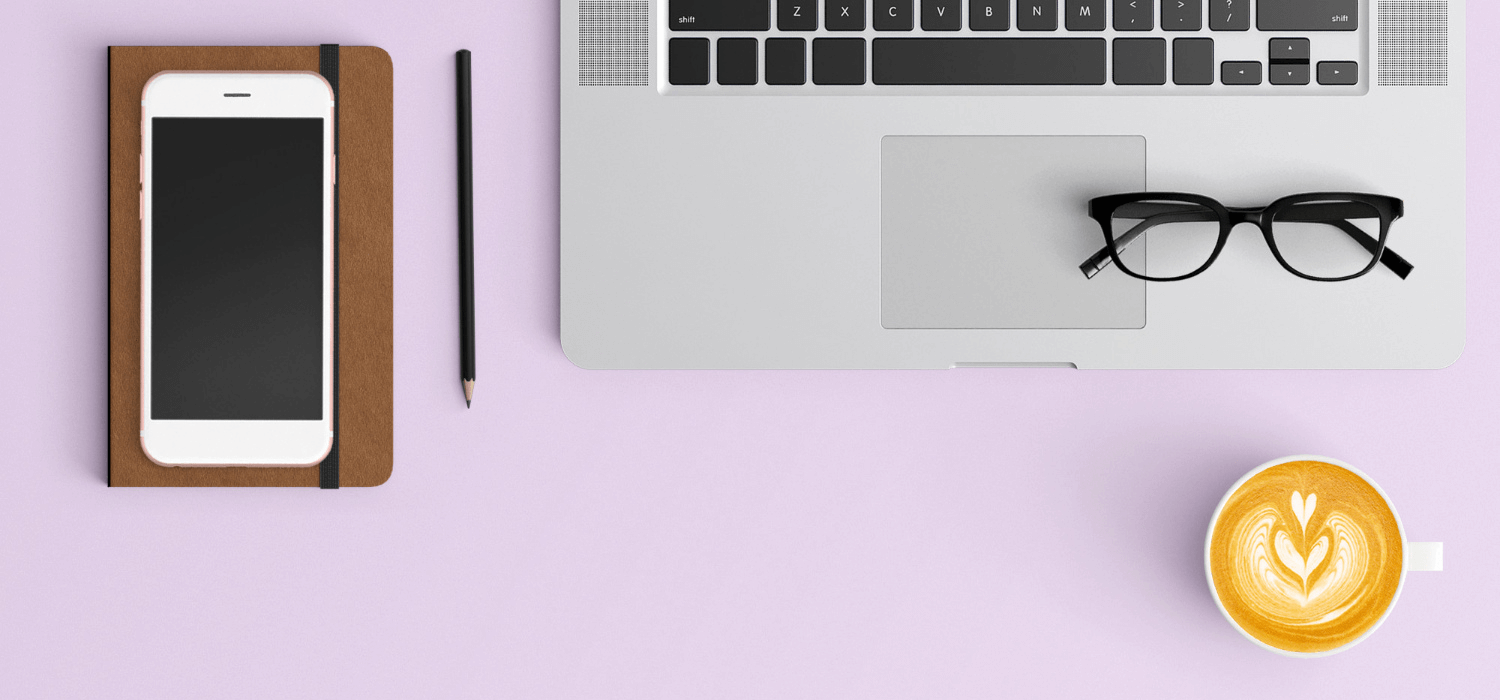 Major Services Offered by the IT Support SaaS Staff We Hire
We recruit highly specialized and experienced SaaS customer support manager and agents to provide a wide range of services to our valued customers offering different kinds of software-based online services. A few very important services offered by the SaaS support remote representatives we recruit include:
An online tech support SaaS team we recruit for our customers remotely provides the live chat support service through multiple online platforms such LiveChat, Olark, LiveAgent, WhatsApp, Intercom, custom applications, and others.
A phone answering is another very crucial support service provided by the SaaS support desk specialists we hire for our clients. Voice calls through multiple sources such as WhatsApp calls, VoIP calls, traditional phone calls, and other software application-based calls are handled efficiently with professional attitude and tone by the teams we recruit.
Email support is one of the most popular services preferred by the customers because you don't need to wait for your turn of call and respond at the spur. The support agents we recruit can handle email support professionally by responding in a polite way with a personalized touch to increase the customer engagement significantly.
Creating social media pages for SaaS business, engaging with a large and integrated community, managing different communication channels on social media, and creating and posting high-quality content are a few activities that make social media as one of the most effective and reliable sources for providing customer awareness and support. The SaaS representatives we hire can offer all of those services perfectly.
Online self-service consists of taking support from FAQs, how-to guides, online knowledge bases, user manuals, whitepapers, and others by the SaaS customers by themselves without any third-party involvement. The SaaS product outsourcing tech support experts we hire are capable enough to create highly helpful self-service content and manage it online professionally.
SaaS products can be complex and sometimes very complex to understand and use because they offer a wide range of features, capabilities, and functionalities through software interfaces. The customers that subscribe to the SaaS product may require different levels of technical support such as tier one SaaS support and tier 2 and tier 3 supports, in certain cases. The representatives we recruit for SaaS technical support are able to provide all those levels of technical support smoothly.
The operations of SaaS services is a highly technical domain and requires technical knowledge and expertise. The operations activities include monitoring of performance, quality, availability of SaaS services and ensuring that customers are receiving all quality parameters committed by the company. The addition of new capabilities, testing the newly added features, removing invalid accounts, etc. are also parts of SaaS service operations. The technical team we hire can accomplish all these impeccably.
SaaS Telemarketing Services
Dissipating awareness about a SaaS product among the targeted customers requires some kinds of technical expertise and knowledge about the computer-based services. The SaaS support teams we recruit for providing the customer services are expert in providing the telemarketing SaaS services to the target audience to increase the effectiveness of marketing campaigns and strategies of your business.
Virtual Receptionist Services
Whether it is business to business (B2B) or business to customer (B2C) business, the role of a virtual receptionist to establish smooth interaction and communication with the prestigious clients is very critical. We recruit highly professional SaaS support representatives remotely that are capable of providing virtual receptionist activities such as meeting schedules, call setups, video conferencing, technical briefings, and other similar kinds of activities smoothly.
Expert SaaS Customer Support Services
Our company is a specialized provider of human resource consultancy and recruitment solutions for the SaaS customer support services. A wide range of recruitment and consulting solutions for SaaS support include:
Our specialized recruitment team offers an expert-level consulting service for building a perfect team for SaaS support services remotely in Ukraine. We gather the requirements of our clients and desired objectives to achieve through SaaS support, and create the most suitable solution to fulfil those requirements and accomplish those desired goals. Our company suggests the most optimized and cost-efficient solution that your business requires.
SaaS Customer Support 24/7
Our professional team can hire a remote team for our clients to provide them SaaS customer support for round the clock (24/7). We design a complete solution to maintain uninterrupted support with the help of highly robust software infrastructure and a team to operate in different shifts to keep continuous support services seamlessly.
We can recruit a SaaS support team to provide you help on the weekends when your on-premise team takes days-off. This is a part-time type of SaaS support that we offer at very reasonable cost in Ukraine.
Our company can hire a team or a single SaaS support representative remotely to provide you SaaS support in hours when your on-premise core team is off. This support is known as an after-hour support service.
The recruitment of teams or SaaS support agents that provide customer services whenever need arises is known as on-demand SaaS support. Our recruitment team can hire a team or an agent to provide on-demand SaaS support to our clients.
A hybrid-team for SaaS support is the combination of representatives that perform different types of activities dedicatedly at their respective ends. For instance, the first level support is performed by a remote team and other levels of technical support provided by the internal teams. Our company is capable of building a hybrid-team for SaaS support perfectly.
How We Assist in Achieving 5-Star SaaS Customer Support
Our team provides a comprehensive solution for SaaS support solutions that provide answers to numerous questions in your mind such as how many customer support reps do I need for SaaS teams, how much will it cost, how to staff your SaaS support team, and many others. We provide dedicated and reliable teams that help you achieve 5-star SaaS support.
What Makes Us Unique from Competitors in Market?
Our services are powered by professional expertise, experience, and numerous business-supporting features that make us stand out of the market noise such as:
End-to-end solution – Our services include client's requirement assessment, objective analysis, support philosophy, resource sourcing, team hiring, talent onboarding, and scalability. Our clients get the most suitable solutions to meet the requirements of their businesses.
Cost-competitiveness – We offer highly competitive recruitment prices, which are fixed and transparent without any hidden charges at all.
Professional commitment – Our team provides exactly what it commits to our clients, rest assured. Our services are highly customer-focused and solution-oriented to provide a great value to our client.
Reliability – We build dedicated teams that are fully managed by our professional management team that guarantee 100% reliability and consistency in the services.
Continual support – Our company believes in establishing long term business relationships with our clients through consistent support, scaling up of resources, guiding about the emerging industry trends, and many others. We remain always committed to continual support to our partners.
Step-by-Step Process of Hiring Support Staff for SaaS Services with Us
Our process of hiring support staff for SaaS services consists of the steps:
Our team collects business requirements, support priorities, and the desired objectives from our clients to assess and evaluate.
Our recruitment team suggests a suitable solution for building a team and starts searching and shortlisting SaaS support specialists.
Our team hires the most suitable candidates for your SaaS support services and you decide which candidates to hire.
Client signs a detailed contract that include assignments, objectives, terms and conditions to operate under a team.
Our management team arranges workspace in line with the client's corporate identity and onboards the newly hired SaaS agents.
Clients take control of the remote team for further operations to improve the business growth substantially.
Why Setting Up Expert Support SaaS Team in Ukraine Is the Right Option for Your Business?
The main reasons to setup an expert support SaaS team in Ukraine include:
Technology is the passion of the Ukrainian population. They love to play, create, innovate, operate, and enjoy it. People are fast-learner of numerous SaaS-based cloud services.
The people of Ukraine are highly professional in their attitudes. They have an innovative approach to the solutions of problems and focus on customer-satisfaction.
Ukraine is one of the most reasonable markets among the competitors in terms of cost. The recruitment process cost as well as the average salary to hire a SaaS customer support agent is very affordable.
The price/quality ratio of Ukrainian specialists is much higher than many other countries. It follows the European and international quality standards to create great value for clients across the globe.
Ukraine is situated in Eastern Europe, which is a central location for many major regions such as Western Europe, Indo-Pacific, Middle-East, North America, and others. It shares overlapped working hours with many countries in these regions.
Shared Culture & Language
Ukraine shares the European culture and a huge population of the country is very efficient in English language along with many other European languages.
Comparison of Hiring Models for SaaS Maintenance and Support Agents
How to hire a customer support for SaaS service depends upon the business objectives and company's strategic policies. The most common models of hiring SaaS representatives are compared in the table to provide a better insight into those hiring models.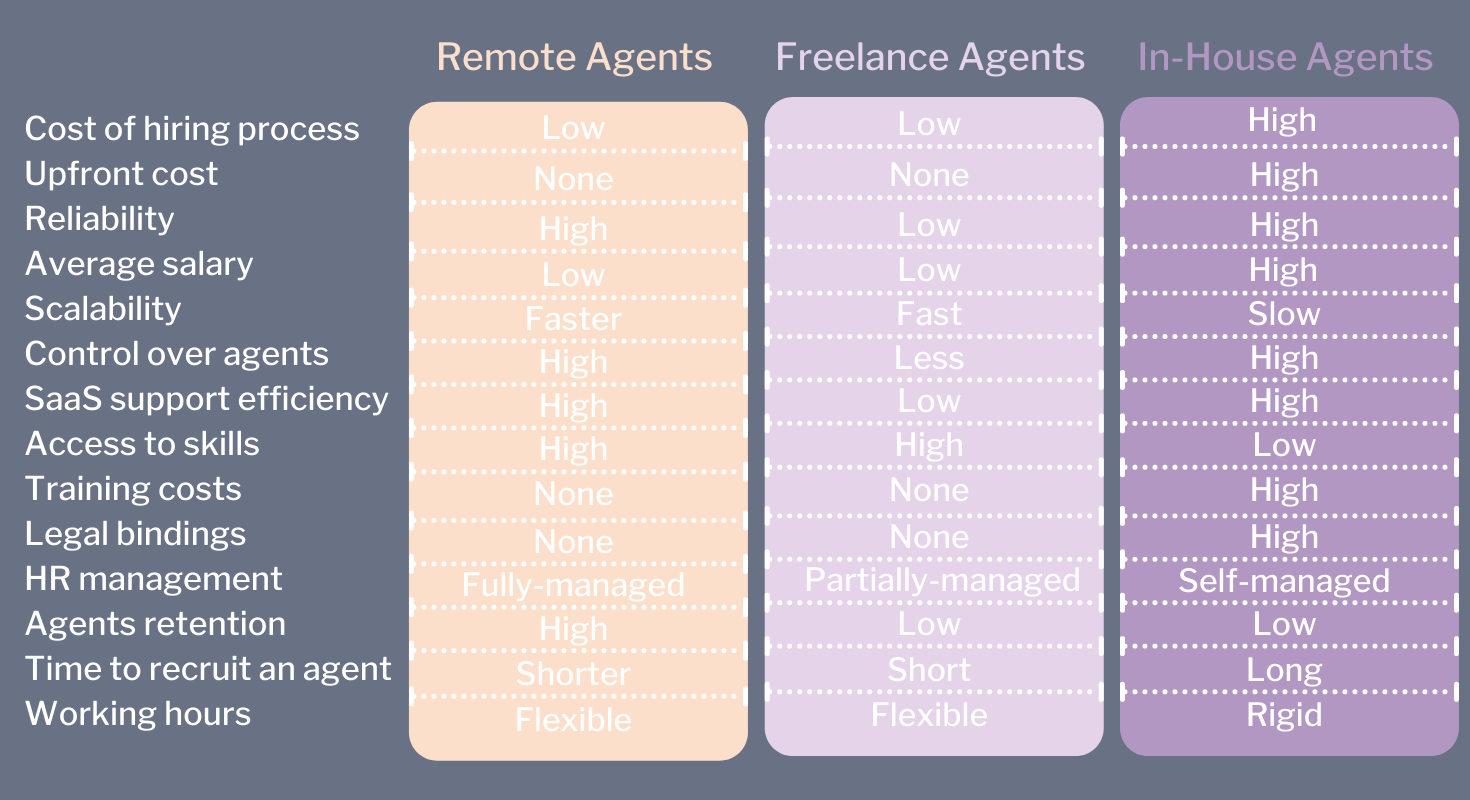 If you look at different comparing factors, you will find that building a dedicated team of customer support for software SaaS providers is the most attractive option of the other two models of hiring.
If you are looking to hire remote SaaS customer support agents, get in touch with us and build a dedicated SaaS support team in Ukraine!